Freezing Rescued Dog Shows Its Gratitude!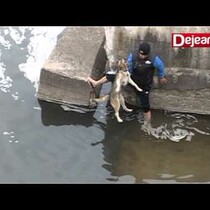 One lucky pooch's day just got a whole lot better.
When a dog became stranded in a canal in Romania, some passersby jumped in to pull the soaking wet pup from the icy water. But it's what happens after the dog was freed that makes the recorded rescue so remarkable.Watch!